BIOGRAFÍA DE TONY TODD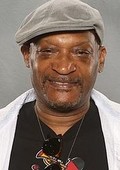 Anthony T. "Tony" Todd (4 de diciembre, 1954) es un actor y productor estadounidense. Destaca por su altura (1,96 m) y voz profunda. Es conocido por interpretar a Candyman en la trilogia de peliculas de terror del mismo nombre.
Todd nacio en Washington D. C. y crecio en Hartford, Connecticut, donde asistio a escuelas locales. Ademas fue boy scout, miembro de la Tropa 450. Asistio a la Universidad de Connecticut y estudio actuacion en el Eugene O'Neill National Theatre Institute.
Carrera
Cine
Ha trabajado en mas de 100 peliculas y telefilmes, y ha actuado junto a muchas estrellas de primer nivel de Hollywood. Entre sus creditos se encuentran: Platoon (1986), Night of the Living Dead (1990), Candyman (1992),​ El cuervo (1994), La roca (1996), Wishmaster (1997), la serie de peliculas de Destino final (2000–2011) y Minotaur (2006).​ Todd le dio la voz a The Fallen en Transformers: la venganza de los caidos.
Teatro y television
Tambien actuo en Broadway y en television, haciendose particularmente notables sus apariciones en series populares de ciencia ficcion o fantasia. Es reconocido por los seguidores de Star Trek como Kurn, el hermano de Worf, en Star Trek: The Next Generation y Star Trek: Deep Space Nine. Ademas tuvo papeles como invitado como el hirogeno alfa en un episodio de Star Trek: Voyager y como el adulto Jake Sisko en el episodio "The visitor" de Star Trek: Deep Space Nine.
Otros de sus trabajos en television incluyen un papel habitual en Boston Public y como invitado en Law & Order, Homicide: Life on the Street, Hercules: The Legendary Journeys, Xena: Warrior Princess como Cecrope I, The X-Files, Smallville, Angel, 24, Charmed, Without a Trace, Stargate SG-1, Andromeda, Criminal Minds y Chuck.
Es uno de los pocos actores que interpreto dos personajes diferentes en 24. Fue inicialmente elegido para interpretar al Detective Michael Norris en la tercera temporada y cuatro años despues aparecio como el General Benjamin Juma en el telefilme 24: Redemption y en la septima temporada de la serie.
Filmografia:
Sleepwalk (1986) – Mr. Barrington
Platoon (1986) – Sgt. Warren
Peng! Du bist tot! (1987) – Undercover Agent
84 Charing Cross Road (1987) – Demolition Worker
Enemy Territory (1987) – The Count
Colors (1988) – Veterano de Vietnam
Bird (1988) – Frog
Lean on Me (1989) – Mr. William Wright
Voodoo Dawn (1990) – Makoute
Criminal Justice (1990) – Detective Riley
Night of the Living Dead (1990) – Ben
The Bride in Black (1990)
Sunset Heat (1991) – Drucker
Love and Curses... And All That Jazz (1991) – Emile Gaston
Keeper of the City (1991) – Bridger
Candyman (1992) – The Candyman/Daniel Robitaille
Excessive Force (1993) – Frankie Hawkins
El cuervo (1994) – Grange
Burnzy's Last Call (1995) – Marla
Candyman: Farewell to the Flesh (1995) – The Candyman/Daniel Robitaille
Black Fox (1995) – Britt Johnson (Black Fox)
Sushi Girl (2012) - Duke
Unbroken – Reverendo Bill Abernathy
Black Fox: The Price of Peace (1995) – Britt Johnson (Black Fox)
Black Fox: Good Men and Bad (1995) – Britt Johnson (Black Fox)
Beastmaster III: The Eye of Braxus (1996) – Seth
La roca (1996) – Capitan Darrow
Driven (1996) – Darius Pelton
Them (1996) – Berlin
Sabotage (1996) – Sherwood
True Women (1997) – Ed Tom
Wishmaster (1997) – Johnny Valentine
Univers'l (1997) – Marcus
Butter (1998) – Benzo Al
Shadow Builder (1998) – Covey
Caught Up (1998) – Jake
The Pandora Project (1998) – Garrett Houtman, director de la CIA
Stir (1998) – Bubba
Babylon 5: A Call to Arms (1999) – Leonard Anderson
The Dogwalker (1999) – Mones
Candyman 3: Day of the Dead (1999) – The Candyman/Daniel Robitaille
Destino final (2000) – William Bludworth (Forense)
Le Secret (2000) – Bill
Scarecrow Slayer (2003) – Caleb Kilgore
Control Factor (2003) – Reggie
Destino final 2 (2003) – William Bludworth (Forense)
Silence (2003) – Eric Crowell
Murder-Set-Pieces (2004) – Dependiente
House of Grimm (2005) – Grimm
Heart of the Beholder (2005) – Chuck Berry
Turntable (2005) – Victor
The Prophecy: Forsaken (2005) – Stark
I.O.U (2005) – Jack Bruckner
Dark Assassin (2006) – Ghost
Shadow: Dead Riot (2006) – Shadow
The Strange Case of Dr. Jekyll and Mr. Hyde (2006) – Dr. Jekyll/Mr. Hyde
Destino final 3 (2006) – Voz del diablo (atraccion) / Voz anuncios metro
Minotaur (2006) – Deucalion
The Absence of Light (2006) – El alquimista
The Eden Formula (2006) – James Radcliffe
Valerie on the Stairs (2006) - The Beast (Otakai)
Hatchet (2007) – Clive Washington (Rev. Zombie)
Mercy Street (2007) – Christopher
Chicago Massacre: Richard Speck (2007) – Capitan Dunning
Tournament of Dreams (2007) – Isaiah Kennedy
Shadow Puppets (2007) – Steve
The Eyes of Samir (2007) – Steve Mcreedy
The Man from Earth (2007) – Dan
The Mannsfield 12 (2007) – Hunnit Grand
iMurders (2008) – Agente Washington
Bryan Loves You (2008) – El narrador
Nite Tales: The Movie (2008) – Clown
Dark Reel (2008) – Det Shields
Job (2008) – Headmaster Goodwynne
The Thirst: Blood War (2008) – Julien
Black Friday (2008) – Roger Fremonte
Dockweiler (2008) – The Duke
Tom Cool (2009) – Mac Angel
Dead in Love (2009)
Are You Scared 2 (2009) – Controlador
Penance (2009) – Chofer
Transformers: la venganza de los caidos (2009) (Voice) – Megatronus Prime/The Fallen
Fences (2009)
Vampire in Vegas (2009) – Sylvian
The Graves (2010) – Reverendo Abraham
Three Chris's (2010) – God
The Quiet Ones (2010) – Presentador del programa de television/Narrador
A Night at the Silent Movie Theater (2010) – Jones
Beg (2010) – Nathan McVay
Poe (2010)
Hatchet 2 (2010)
Night of the Living Dead: Origins 3D (2010) – Ben
Jack The Reaper (2011) - Steel
Destino final 5 (2011) – William Bludworth (Forense)
The Young and the Restless (2013) – Gus Rogan
The Flash (2015) – Zoom
742