Mckenna Grace será la hija de los Warren en 'Annabelle 3'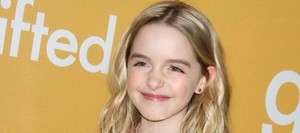 Segun informa Deadline, la joven actriz Mckenna Grace se ha incorporado al reparto de la tercera entrega de 'Annabelle' en uno de los papeles claves en la historia. La protagonista de las series 'Un don excepcional' y 'Designated Survivor' y la futura 'Capitana marvel' interpretara a Judy Warren, hija de los investigadores de fenomenos paranormales que sera atacada junto con sus dos niñeras adolescentes por la malvada muñeca despues de traerla a casa.
Gary Dauberman, guionista de las anteriores peliculas de 'Annabelle', realizara su debut en la direccion con este proyecto nuevamente producido por James Wan de Atomic Monster y Peter Safran. Sin titulo definido, la pelicula llegara a los cines el 3 de julio de 2019 de la mano de New Line Cinema.
Este particular universo cinematografico incluye tanto las peliculas de 'Expediente warren: el caso enfield', como las dos entregas de 'Annabelle' y la 'La monja', cuyo estreno llego el pasado 7 de septiembre. En marcha, las nuevas entregas de 'Expediente warren: the conjuring' y 'Annabelle', asi como el spin-off de 'Expediente warren: el caso enfield' centrado en The Crooked Man (El hombre torcido).
John R. Leonetti dirigio la primera entrega de Annabelle (2014) que ganase 257 millones de dolares para un presupuesto de 6,5 millones, mientras que la segunda entrega en 2017, 'Annabelle 2' fue dirigida por David F. Sandberg y recaudo 306,5 millones para un presupuesto de 15 millones de dolares.
Warning
: Undefined variable $idpeli in
/home/adictosa/public_html/ver_noticia.php
on line
164
Warning
: Trying to access array offset on value of type null in
/home/adictosa/public_html/ver_noticia.php
on line
164
Warning
: Undefined variable $idfilmo in
/home/adictosa/public_html/ver_noticia.php
on line
184
Warning
: Trying to access array offset on value of type null in
/home/adictosa/public_html/ver_noticia.php
on line
184
Comentarios de la noticia "Mckenna Grace será la hija de los Warren en 'Annabelle 3'"
Warning
: Undefined array key "error" in
/home/adictosa/public_html/incl/comentarios_noticias.php
on line
15
Warning
: Undefined array key "id" in
/home/adictosa/public_html/incl/comentarios_noticias.php
on line
115
Warning
: Undefined variable $idpeli in
/home/adictosa/public_html/ver_noticia.php
on line
204
Warning
: Trying to access array offset on value of type null in
/home/adictosa/public_html/ver_noticia.php
on line
204