BIOGRAFÍA DE GREG NICOTERO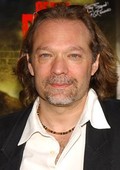 Gregory 'Greg' Nicotero (nacido el 15 de marzo de 1963, Pittsburg, Pennsylvania) es un especialista en efectos especiales de maquillaje, productor y director americano. Su mayor trabajo en efectos especiales fue en la pelicula Day of the Dead de George A. Romero en 1985, bajo el tutelaje de Romero y el veterano Tom Savini, tambien especialista en efectos especiales de maquillaje.
En 1988, junto con Robert Kurtzman y Howard Berger, formo KNB EFX Group, un estudio especialista en efectos especiales de maquillaje en el cual han trabajado en mas de 400 peliculas y series de television. KNB obtuvo numerosos galardones, incluyendo un Emmy Award en 2001 por su trabajo en la miniserie Frank Herbert's Dune del canay SciFy y el premio de la Academia (Academy Awards - Oscar) al Mejor Maquillaje en The Chronicles of Narnia: The Lion, The Witch y The Wardrobe en 2006.
Actualmente trabaja como productor ejecutivo, supervisor de efectos especiales de maquillaje y ocasionalmente de director para la serie The Walking Dead y Fear The Walking Dead para la cadena AMC.
Nicotero ha dirigido un total de 14 episodios de The Walking Dead y es el creador de la webserie The Walking Dead: Webisodes.
Filmografia
The Hateful Eight (2015) (efectos especiales de maquillaje)
Lone Survivor (2013) (efectos especiales de maquillaje)
Oz the Great and Powerful (2013) (efectos especiales de maquillaje)
The Man with the Iron Fists (2012) (sefectos especiales de maquillaje)
Seven Psychopaths (2012) (efectos especiales de maquillaje)
The Odd Life of Timothy Green (2012) (supervisor de efectos especiales de maquillaje)
The Grey (2012) (efectos especiales de maquillaje) (como Greg Nicotero)
A Very Harold & Kumar 3D Christmas (2011) (supervisor de efectos especiales de maquillaje)
Breaking Bad (2011) (efectos especiales de maquillaje) (2 episodios) (como Greg Nicotero)
Water for Elephants (2011) (supervisor de efectos especiales de maquillaje - uncredited)
I Am Number Four (2011) (diseñador y creador de efectos especiales de maquillaje) (como Greg Nicotero)
Paul (2011) (efectos especiales de maquillaje - desacreditado)
The Boy Who Cried Werewolf (2011) (efectos especiales de maquillaje) TV Film
The United Monster Talent Agency (2010) (efectos especiales de maquillaje) (como Greg Nicotero) Cortometraje
The Ward (2010) (efectos de maquillaje)
Piranha 3D (2010) (supervisor de efectos especiales de maquillaje)
The Walking Dead (2010-) (efectos especiales de maquillaje) (como Greg Nicotero)
The Pacific (2010) (supervisor de efectos especiales de maquillaje) (6 episodios)
Predators (2010) (efectos especiales de maquillaje y efectos de Predator)
Edge of Darkness (2010) (efectos especiales de maquillajes) (como Greg Nicotero)
The Book of Eli (2010) (efectos especiales de maquillaje) (como Greg Nicotero)
Mirrors (2008) (diseñador de efectos especiales de maquillaje)
Fear Itself (2008) (efectos especiales de maquillaje) (como Greg Nicotero)
The Mist (2007) (creature effects)
Diary of the Dead (2007) (productor de efectos especiales de maquillaje)
Underdog (2007) (supervisor)
Transformers (2007) (supervisor de animatronica)
Grindhouse (2007) (efectos especiales de maquillaje)
Disturbia (2007) (upervisor de efectos especiales de maquillaje)
Spider-Man 3 (2007) (efectos especiales de maquillaje)
The Reaping (2007) (supervisor: K.N.B. EFX Group, Inc.)
Hostel: Part II (2007) (diseñador y creador de efectos especiales de maquillaje)
The Hills Have Eyes 2 (2007) (diseñador de efectos especiales de maquillaje)
"Comedy Hell" (2006) (efectos especiales de maquillaje) (como Greg Nicotero)
The Return (2006) (efectos especiales de maquillaje) (como Greg Nicotero)
The Texas Chainsaw Massacre: The Beginning (2006) (supervisor de efectos especiales de maquillaje) (como Greg Nicotero)
Casino Royale (2006) (supervisor de maquillaje) (como Greg Nicotero)
Desperation (2006) (Viernes negro) (supervisor de efectos especiales de maquillaje)
Poseidon (2006) (supervisor de maquillaje)
The Hills Have Eyes (2006) (diseñador de efectos especiales de maquillaje) (como Greg Nicotero)
The Chronicles of Narnia: The Lion, the Witch and the Wardrobe (2005) (efectos especiales de maquillaje y criaturas)
Hostel (2005) (efectos especiales de maquillaje, diseñador y creador)
Serenity (2005) (supervisor de efectos especiales de maquillaje) (como Greg Nicotero)
The Island (supervisor de proyecto)
Land of the Dead (2005) (supervisor de efectos especiales de maquillaje) (as Greg Nicotero)
The Adventures of Sharkboy and Lavagirl in 3-D (2005) (efectos especiales de maquillaje) (como Greg Nicotero)
The Amityville Horror (2005) (efectos especiales de maquillaje, diseñador y creador) (como Greg Nicotero)
Sin City (2005) (supervisor de efectos especiales de maquillaje) (como Greg Nicotero)
Cursed (2005) (supervisor adicional de efectos especiales de maquillaje) (como Greg Nicotero)
Masters of Horror (2005) TV Series (efectos especiales de maquillaje)
Dominion: Prequel to the Exorcist (2005) (diseñador de efectos especiales de maquillaje) (como Greg Nicotero)
Lemony Snicket's A Series of Unfortunate Events (2004) (supervisor de efectos especiales de maquillaje) (como Greg Nicotero)
Ray (2004) (supervisor de efectos especiales de maquillaje) (como Greg Nicotero)
Riding the Bullet (2004) (supervisor de efectos especiales de maquillaje)
Ginger Snaps: Unleashed (2004) (efectos especiales de maquillaje)
Kill Bill: Volume 2 (2004) (supervisor de efectos especiales de maquillaje) (como Greg Nicotero)
Kill Bill: Volume 1 (2003) (supervisor de efectos especiales de maquillaje)
Once Upon a Time in Mexico (2003) (supervisor de efectos especiales de maquillaje) (como Greg Nicotero)
Identity (2003) (supervisor de efectos especiales de maquillaje)
The Texas Chainsaw Massacre (2003) (efectos especiales de maquillaje)
Spy Kids 3-D: Game Over (2003) (efectos especiales de maquillaje)
Hulk (2003) (efectos de animatronica) (como Greg Nicotero)
Cabin Fever (2003) (supervisor de efectos especiales de maquillaje)
Bubba Ho-tep (2002) (supervisor de efectos especiales de maquillaje) (como Greg Nicotero)
Murder by Numbers (2002) (supervisor) (como Greg Nicotero)
The Rules of Attraction (2002) (efectos especiales de maquillaje)
Vampires: Los Muertos (2002) (supervisor de efectos especiales de maquillaje)
Austin Powers in Goldmember (2002) (supervisor de protesis) (como Greg Nicotero) (efectos especiales de maquillaje)
Minority Report (2002) (efectos especiales de maquillaje) (uncredited)
The Time Machine (2002) (supervisor) (como Greg Nicotero)
Evolution (2001) (supervisor) (como Greg Nicotero)
Vanilla Sky (2001) (supervisor de efectos especiales de maquillaje) (como Greg Nicotero)
Thir13en Ghosts (2001) (efectos especiales de maquillaje y supervisor)
Ghosts of Mars (2001) (efectos especiales de maquillaje)
Mulholland Drive (2001) (efectos especiales de maquillaje) (como Greg Nicotero)
The Animal (2001) (efectos especiales de maquillaje (como Greg Nicotero)
Spy Kids (2001) (supervisor de efectos especiales de maquillaje) (como Greg Nicotero)
Unbreakable (2000) (supervisor de efectos especiales de maquillaje) (como Greg Nicotero)
The Cell (2000) (protesis y efectos especiales de maquillaje)
Frank Herbert's Dune (2000) (El enviado) TV Series (supervisor de efectos especiales)
Little Nicky (2000) (efectos especiales de maquillaje y efectos especiales)
House on Haunted Hill (1999) (efectos especiales de maquillaje)
The Haunting (1999) (supervisor de efectos especiales de maquillaje) (como Greg Nicotero)
The Green Mile (1999) (supervisor de efectos especiales de maquillaje) (como Greg Nicotero)
The Faculty (1998) (efectos especiales de maquillaje y efectos especiales)
Very Bad Things (1998) (supervisor) (como Greg Nicotero)
Vampires (1998) (efectos especiales de maquillaje)
Scream 2 (1997) (supervisor de efectos especiales de maquillaje) (como Greg Nicotero)
Wishmaster (1997) (efectos especiales de maquillaje)
Boogie Nights (1997) (supervisor de efectos especiales de maquillaje) (como Greg Nicotero)
Spawn (1997) (animatronica y efectos especiales de maquillaje)
Scream (1996) (supervisor de efectos especiales de maquillaje) (como Greg Nicotero)
From Dusk till Dawn (1996) (supervisor de efectos especiales de maquillaje) (como Greg Nicotero)
Eraser (1996) (supervisor de animatronica) (como Greg Nicotero)
Lord of Illusions (1995) (supervisor de efectos especiales de maquillaje)
In the Mouth of Madness (1995) (sefectos especiales de maquillaje)
Vampire in Brooklyn (1995) (efectos especiales de maquillaje)
Wes Craven's New Nightmare (1994) (efectos especiales de maquillaje)
Pulp Fiction (1994) (supervisor de efectos especiales de maquillaje)
Pumpkinhead II: Blood Wings (1994) (supervisor de efectos especiales de maquillaje)
Jason Goes to Hell: The Final Friday (1993) (supervisor de efectos especiales y efectos especiales de maquillaje)
Body Bags (1993) (Viernes negro) (efectos especiales de maquillaje) (como Greg Nicotero)
Army of Darkness (1992) (efectos especiales de maquillaje)
The People Under the Stairs (1991) (supervisor de efectos especiales de maquillaje)
Dances with Wolves (1990) (supervisor de efectos especiales de los bufalos) (as Greg Nicotero)
Misery (1990) (efectos especiales de maquillaje) (como Greg Nicotero)
Bride of Re-Animator (1990) (efectos especiales de maquillaje)
Tales from the Darkside: The Movie (1990) (supervisor de efectos especiales de maquillaje)
Leatherface: The Texas Chainsaw Massacre III (1990) (efectos especiales de maquillaje)
Halloween 5: The Revenge of Michael Myers (1989) (supervisor de efectos especiales) (como Greg Nicotero)
The Horror Show (1989) (efectos especiales)
Phantasm II (1988) (equipo de efectos especiales)
Monkey Shines (1988) (efectos especiales de maquillaje)
Phantasm II (1988) (jefe de efectos especiales de maquillaje)
Evil Dead II (1987) (quipo de efectos especiales de maquillaje)
Predator (1987) (equipo de efectos del Predator)
Creepshow 2 (1987) (efectos especiales)
Invasion U.S.A. (1985) (efectos especiales de maquillaje) (como Greg Nicotero)
Day of the Dead (1985) (efectos especiales de maquillaje)
Como actor:
The Walking Dead

1.3 "Tell It to the Frogs"
1.4 "Vatos"
3.9 "The Suicide King"
6.3 "Thank you"

Piranha 3D (2010)
Inglourious Basterds (2009)
Gingerdead Man 2: Passion of the Crust (2008)
Diary of the Dead (2008) (como Greg Nicotero)
Cemetery Gates (2006)
The Hills Have Eyes (2006) (como Greg Nicotero)
Land of the Dead (2005) (como Greg Nicotero) .
Cursed (2005)
House on Haunted Hill (1999)
From Dusk till Dawn (1996)
The Demolitionist (1995)
Body Bags (1993) (Viernes negro) (como Greg Nicotero)
Halloween 5: The Revenge of Michael Myers (1989)
Intruder (1989)
Night of the Creeps (1986)
Day of the Dead (1985)
Como director:
The Walking Dead (2011–presente) (13 episodios)

2.11 "Judge, Jury, Executioner"
3.05 "Say The Word"
3.11 "I Ain't a Judas"
3.15 "This Sorrowful Life"
4.01 "30 Days Without an Accident"
4.09 "After"
4.15 "Sabrina, y sus amores"
5.01 "No Sanctuary"
5.09 "What Happened and What's Going On"
5.12 "Remember"
5.16 "Conquer"
6.01 "First Time Again"
6.09 "No hay salida"
6.12 "Not Tomorrow Yet"
6.16 "Last Day on Earth"

The Walking Dead: The Oath (2013) (3 webisodes)
The Walking Dead: Cold Storage (2012) (4 webisodes)
The Walking Dead: Torn Apart (2011) (6 webisodes)
The United Monster Talent Agency (2010) (Cortometraje)
0