BIOGRAFÍA DE DONALD PLEASENCE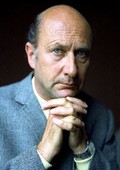 Donald Henry Pleasence (n. Worksop, Nottinghamshire, Inglaterra; 5 de octubre de 1919 – f. Saint-Paul de Vence, Francia; 2 de febrero de 1995), actor britanico. Ciertos criticos solian referirse a el con el apodo del "hombre de los ojos hipnoticos". Aunque es habitualmente asociado a papeles de malo (o al menos sombrios) en peliculas de serie B, realmente tuvo una carrera muy extensa y trabajo con figuras de maximo prestigio, como Laurence Olivier, John Sturges y Woody Allen.
Vida:
Pleasence es el menor de dos hermanos. Su padre, Thomas Stanley Pleasence, trabajaba como director de estacion de trenes. Un año antes de acabar el instituto abandona las clases porque habia conseguido plaza en la Royal Academy of Dramatic Art para formarse en interpretacion. Sin embargo no pudo ocupar esa plaza debido a la falta de medios economicos.
Tras una serie de trabajos relacionados con los trenes consigue un puesto en el teatro de la Isla Jersey como Assistant Stage Manager.
Alli comienza su carrera en 1939 en una obra de teatro Cumbres Borrascosas de Emily Brontë. Rapidamente consigue exito y en 1942 hace el papel de Curio en la obra Noche de reyes de Shakespeare en Londres. Su carrera se ve interrumpida como tantas por la Segunda Guerra Mundial: siendo una persona pacifica primero niega el servicio militar y trabaja medio año como leñador. Despues cambia sin embargo de opinion y comienza como piloto en la Royal Air Force. En una mision contra Alemania se convierte en prisionero de guerra y es ingresado en un campamento aleman.
Un año tras el fin de la guerra volvio a retomar su carrera como actor y es contratado en Old Vic Company en Bristol. Alli llamo la atencion de Laurence Olivier y se traslado a Nueva York, junto a Vivien Leigh, donde actuaron juntos en las obras Julio Cesar y Antonio y Cleopatra de Shakespeare.
Tras mas trabajos de teatro comenzo en la primera mitad de los años 50 a trabajar en cine y television. Logro otro gran exito en teatro en 1960 en Londres y a continuacion en Broadway en Nueva York con el papel de Davies en el drama The Caretaker de Harold Pinter, que mas tarde tambien se llevo a la pantalla.
Su exito definitivo en Hollywood lo alcanzo en 1963 con la pelicula The Great Escape (en español La gran evasion), a la cual le siguieron otras producciones: seguramente el mas famoso seria su papel de malo (Ernst Stavro Blofeld) en la Pelicula de James Bond You Only Live Twice, en 1967.
A partir de los años 70 tambien solia aparecer a menudo en peliculas "Clase B". Con el papel de psiquiatra Dr. Sam Loomis en la pelicula Halloween del director John Carpenter que fue un gran exito de taquilla y al que le siguieron cinco continuaciones. Pleasence se llego a convertir de alguna manera en un clasico del cine de terror. Su ultima actuacion la tuvo en la pelicula italiana del cine Slasher Fatal frames.
A Pleasence se le conocia como una persona afanosa, lo que le llevaba a actuar en peliculas de nivel medio, muy por debajo de su capacidad interpretativa. Ademas escribia cuentos infantiles y llego a destacar en el campo de la literatura.
Con su primera esposa Miriam Raymond, con quien estuvo casado de 1941 a 1958, tuvo a sus hijas Angela y Jean. Del matrimonio con la actriz y cantante Josephine Martin Crombie de 1959 a 1970 proceden sus hijas Lucy y Polly Jo. Su ultima hija Miranda la tuvo con Meira Shore con la que se caso en 1970 y se divorcio en 1988 para casarse con Linda Kentwood, la mujer que estuvo a su lado hasta su muerte.
Fallecio a los 75 años por complicaciones durante una cirugia al corazon en Saint-Paul-de-Vence, Francia. Sus restos fueron cremados.

Filmografia:
Titulos originales:
1954: Orders Are Orders
1954: Ins Paradies verdammt (The Beachcomber)
1955-1958: The Adventures of Robin Hood (Serie de televisión)
1955: The Moment of Truth (pelicula de television)
1955: Value for Money
1956: 1984
1956: One (pelicula de television)
1956: The Black Tent
1957: Barnacle Bill
1957: Man in a Moon (pelicula de television)
1957: Manuela
1957: The Man in the Sky
1958: A Tale of Two Cities
1958: Heart of a Child
1958: Look Back in Anger - segun el drama de John Osborne
1958: The Man Inside
1958: The Two-Headed Spy
1958: The Wind Cannot Read
1959: Killers of Kilimanjaro
1959: The Battle of the Sexes
1959: The Flesh and the Fiends
1959: The Scarf (Serie de televisión)
1959: The Shakedown
1960: A Story of David
1960: Circus of Horrors
1960: Hell Is a City
1960: Sons and Lovers
1960: Suspect
1960: The Big Day
1960: The Cupboard (pelicula de television)
1961: No Love for Johnnie
1961: Spare the Rod
1961: The Hands of Orlac
1961: The Horsemasters (pelicula de television)
1961: The Wind of Change
1962: Dr. Crippen
1962: Lisa
1962: What a Carve Up
1963: The Great Escape
1963: The Caretaker (drama segun Harold Pinter)
1965: The Greatest Story Ever Told
1965: The Hallelujah Trail
1966: Viaje alucinante (Viaje alucinante)
1966: Matchless
1966: Wednesday Play: The Head Waiter (produccion televisiva)
1966: CUL-DE-SAC
1967: Eye of the Devil
1967: Solo se vive dos veces (Sólo se vive dos veces)
1967: The Diary of Anne Frank
1967: The Night of the Generals
1967: Thirty-Minute Theatre: Taste (produccion televisiva)
1968: The Other People
1968: Thirty-Minute Theatre: The News-Benders (produccion televisiva)
1968: Will Penny
1969: Arthur! Arthur!
1969: Creature of Comfort
1969: Mr. Freedom
1969: The Madwoman of Chaillot
1970: Soldier Blue
1971: Kidnapped
1971: Play for Today: Skin Deep (produccion televisiva)
1971: Play for Today: The Foxtrot (produccion televisiva)
1971: THX 1138
1971: Wake in Fright
1972: Death Line
1972: Henry VIII and His Six Wives
1972: Innocent Bystanders
1972: The Jerusalem File
1972: The Pied Piper of Hamelin
1972: Wedding in White
1973: Columbo: Any Old Port in a Storm (pelicula televisiva de la serie Columbo)
1973: Dr. Jekyll and Mr. Hyde (pelicula de television)
1973: From Beyond the Grave
1973: Tales That Witness Madness
1973: The Mutations
1973: The Rainbow Boys
1973: Thirty-Minute Theatre: The Joke (pelicula de television)
1974: Barry McKenzie Holds His Own
1974: La Loba y la Paloma
1974: Malachi's Cove
1974: The Black Windmill
1974: The Cafeteria (pelicula de television)
1974: Y si no, nos enfadamos
1975: Escape to Witch Mountain
1975: Hearts of the West
1975: I Don't Want to Be Born
1975: Journey Into Fear
1975: The Count of Monte Cristo (pelicula de television)
1976: The Eagle Has Landed
1976: Goldenrod
1976: Land of the Minotaur
1976: Meriel, the Ghost Girl (pelicula de television)
1976: The Last Tycoon
1976: The Passover Plot
1976: Trial by Combat
1977: Jesus of Nazareth (serie televisiva)
1977: Night Creature
1977: Oh, God!
1977: Telefon
1977: The Uncanny
1978: Centennial (serie televisiva)
1978: John Carpenter's Halloween
1978: Les Liens du sang
1978: L'Ordre et la securite du monde
1978: Power Play
1978: Sgt. Pepper's Lonely Hearts Club Band
1978: The Bastard (pelicula de television)
1978: The Dark Secret of Harvest Home (serie televisiva)
1978: The Defection of Simas Kudirka (pelicula de television)
1978: Tomorrow Never Comes
1979: All Quiet on the Western Front (segun la novela de Erich Maria Remarque; pelicula de television)
1979: Better Late Than Never (pelicula de television)
1979: Dracula
1979: Gold of the Amazon Women (pelicula de television)
1979: Good Luck, Miss Wyckoff
1979: Jaguar Lives!
1979: L'Homme en colère
1979: Dracula 1979
1979: The French Atlantic Affair (serie televisiva)
1980: Blade on the Feather (pelicula de television)
1980: L'Uomo puma
1980: The Monster Club
1981: Escape from New York
1981: Halloween 2
1981: Race for the Yankee Zephyr
1982: Alone in the Dark
1982: Computercide (pelicula de television)
1982: The Barchester Chronicles (serie televisiva)
1982: Witness for the Prosecution (pelicula de television)
1983: The Devonsville Terror
1983: Warrior of the Lost World
1983: Where Is Parsifal?
1984: A Breed Apart
1984: Black Arrow (pelicula de television)
1984: Frankenstein's Great Aunt Tillie
1984: Master of the Game (serie televisiva)
1984: The Ambassador
1985: Arch of Triumph (pelicula de television segun la novela Arc de Triomphe de Erich Maria Remarque)
1985: Cobra Mission
1985: Phenomena
1985: Sotto il vestito niente
1985: The Corsican Brothers (pelicula de television)
1985: The Treasure of the Amazon
1985: To Kill a Stranger
1986: Into the Darkness
1986: Onora il padre (pelicula de television)
1987: Animali metropolitani
1987: Basements (pelicula de television)
1987: Prince of darkness
1987: Django 2: il grande ritorno
1987: Double Target
1987: Ground Zero
1987: Naso di cane (pelicula de television)
1987: Scoop (pelicula de television)
1987: Spettri
1987: Warrior Queen
1988: Angel Hill: l'ultima missione
1988: Casablanca Express
1988: The commander
1988: Hanna's War
1988: Halloween 4
1988: Nosferatu a Venezia
1988: The Great Escape II: The Untold Story (pelicula de television, continuacion de La gran evasion de 1963)
1988: The House of Usher
1988: Un Delitto poco comune
1989: A Caribbean Mystery (pelicula de television sobre un caso de Miss Marple)
1989: Halloween 5
1989: Paganini Horror
1989: River of Death
1989: Ten Little Indians
1990: American risciò
1990: Donne armate
1990: Buried Alive
1990: Moi, general de Gaulle (pelicula de television)
1991: L'Avvoltoio può attendere
1991: Miliardi
1992: Diên Biên Phu
1992: Sombras y niebla
1993: Femme Fatale (pelicula de television)
1993: The Big Freeze
1993: The Hour of the Pig
1994: Guinevere
1995: Arabian Knight (voz)
1995: Halloween 6
1995: Safe Haven
1995: Signs and Wonders (pelicula de television)
1996: Fatal Frames
1,147